Personalized Service Means The Best HVAC Warranties Available
Comfort Pros Heating And Cooling is a family business built on old-fashioned values. We pride ourselves in giving our customers in the Lee's Summit area high-quality, personalized HVAC services. You can trust us to offer you the best HVAC warranties available, backed by the manufacturer. Contact our HVAC company for details!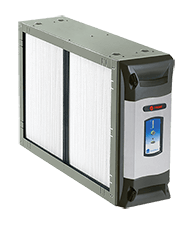 Air Quality
Our air quality products provide a safe and healthy environment for your home. They efficiently remove airborne particulates, dust, pollen, and allergens, giving you pure and clean air to breathe in. The advanced filtration system is designed to trap the smallest particles, ensuring your air is not only fresh but also free from dangerous contaminants. Our air quality products are easy to install and maintain, making them a great choice for anyone looking for healthier indoor air quality. They feature adjustable settings, allowing you to customize the level of filtration to suit your individual needs. Plus, they're energy-efficient, meaning you won't have to worry about high electricity bills. With our air quality products, you can rest assured knowing that the air you're breathing is free from harmful pollutants and allergens. Invest in the health and safety of your family today—choose our air quality products for a safe and healthy home.
Features
Customizable to your home
Various options
Energy efficient
Quality designs
Zoning
Most homes get different sun exposure throughout the day. Zoning systems give you room by room control, letting you keep your home consistently comfortable.
What our customers are saying
friendly, knowledgeable, and paid attention
"They were ahead of schedule, friendly, knowledgeable, and paid attention to details. I will absolutely use this company in the future."
I am so thankful for Them!!!
"I called at 12:15 on a Saturday when it had reached over 80 degrees in my house. They said they could be at my house in a half hour! They were the only people that could come out today and I am so thankful for Them!!! Within 5 minutes they had figured out the problem and went to work getting everything fixed! I am so thankful for Comfort Pros and so appreciative of them coming out so quickly and being so thorough."
routine maintenance
"The Comfort Pros my expectations. We scheduled for routine maintenance going into the summer so it was not a rush but they said when making the appointment that he would try to squeeze us in if it was an emergency. That consideration is simple, but goes so far and is virtually unheard of."